Events can be overwhelming and stressful. But despite every challenge, all the hard work pays off the moment you realize it ended up successfully. So, if you want to document the entire event and all your hard work put in, what's a better way than professional event photography?
Events photography services make an important part of every event. It captures all the memories and moments of the event. Whilst the added effort and time may not initially seem like the wisest investment, having amazing quality photos will make advertising and promoting your event a thousand times easier in the long run.
Each event photography service provides a unique experience and unique end product. With so many new, fun, and unique options, event photography is more than just an overhead process. Rainstar Photography provides high-quality event photography services in Singapore. We are known for our skilled photographers and their innovative approach to event photography.
We also specialize in photographing corporate events and creating high-quality imagery that will make your brand look great. Whether it's a fashion event or a commercial event, we offer the best photography packages to capture all the great moments. No matter if your event is only a couple of hours, a full day, or runs the course of a long weekend, we have affordable event photography packages to meet your budget.
Our event photography package includes:
$250 for 2 hours

$100 for every additional hour

Unlimited Photography
A good photo can capture the attention of potential customers and help persuade them to buy the product or service. That's why businesses often turn to commercial event photography services in Singapore to help create eye-catching visuals for their marketing campaigns.
Brand Perception – A business and brand takes off when it becomes identifiable and delivers excellent value or quality to the clients. By hiring an event photography service, you can grow your business through quality videos and images. For your commercial event photography needs in Singapore, you can rely on Rainstar Photography.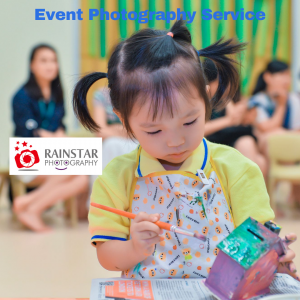 Enhance Your Corporate Image – Commercial photography focuses on your brand's commitment to professionalism and success. It demonstrates your products and services professionally and appropriately on a greater scale. The photography service allows end users to know and understand your business and products more efficiently.
Portray Professionalism – Clear and crisp commercial photographs show the brand's credibility and inspire users to support it. The photographers know the right light type, color combination, and composition that deliver stunning pictures. Creative professional photos will elevate your business and meet the professionalism that your business requires.
Do Not Miss Those Branded Moments
A lot of time and planning goes into making your commercial and corporate event look great. We greatly recommend you do not miss out on the opportunity to book events and photography services in Singapore for future promotion and engagement. High-quality photographs are an essential part of any marketing strategy, so let Rainstar Photography capture the moments that matter most!
To book an appointment for your next event, contact us today!