Birthday parties are not a new thing. People have been seen spending a lot of their time and money on cakes, decorations, presents, and all the trimmings to wow their guests for years. Our desire to throw extravagant parties has not diminished. However, the only difference is that today we want to capture everything on camera to preserve those little moments and cherish them later on. Subsequently, birthday party photography services have grown in popularity.
The reason as to why this is because people realize that it is impossible to relive all the special memories made at parties without photographs. And having a professional photo shoot itself is a special occasion, and when you opt for it on your special days, like birthdays, it helps you preserve your precious moments the way you want.
Hiring professional birthday party photography services allows you to completely relax and enjoy every bit of the party, without having the pressure of capturing everything to get it all on camera yourself. Our experienced birthday party photographers are guaranteed to capture everything.
With that said, check out the following reasons to find out how a professional birthday photo shoot service can take your birthday celebration to the next level.
Preserve the Moments for Life
The most important reason to go for a birthday party photography service is to lock in memories in the best way possible. You may own the latest smartphone or have excellent expertise in taking pictures, but photography is an art. You need the right set of knowledge and skills to capture the shots you can cherish forever. From capturing all the candid expressions to joyful moments, professional photographers know the areas to focus upon during a birthday photo shoot session.
A Thoughtful Gift for Yourself
no matter how buying yourself a gift on your birthday may sound bizarre to you, but it's one of the best ways to pamper your soul. So how about gifting yourself a photo shoot party on this birthday? Capturing beautiful framed pictures will surely be the best gift you would ever give yourself. Hiring the best birthday party photography service, in this regard, is an ideal way to preserve beautiful memories of your legacy and life.
Reconnect with Yourself
This may hold less significance, but booking a professional photography service can be a great way to reconnect with yourself. When was the last time you pampered or treated yourself with luxuries? Your busy work schedule might be preventing you from taking necessary breaks and doing something that actually makes you feel special. Opting for professional birthday party photography services allows you to ditch the madness and monotony of the outside world. It gives you a much-needed break and 'me time'.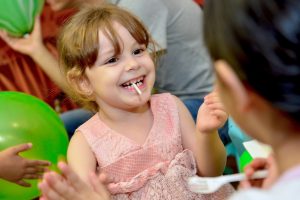 Whether it's your teen celebration or twentieth birthday celebration, it calls for a professional photo shoot service to click some insta-worthy shots.
Booking a photographer could not be easier!
At Rainstar Photography, our photograph experts will entirely capture your birthday, making the day a moment to celebrate forever. Visit us if you are willing to book an ideal photo shoot package with us at your next birthday party.